Yes, there will be internet transmission!
2 x TV all night long from Berlin and Bogotá. Live transmission with talk and show, music and live entertainment in English and Spanish/German, partly subtitled. We wanna talk about stuff and have fun also. LLTV is about contact and live is live!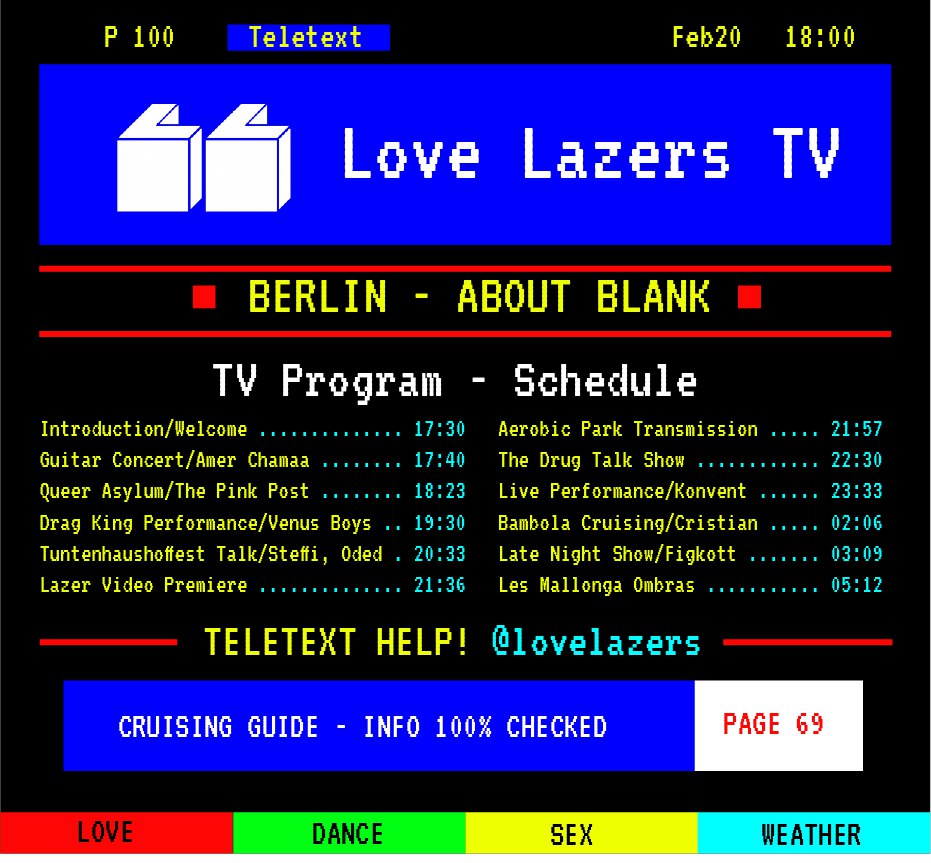 Broadcasting on both dates:
The Pink Post interviews with queers in Berlin about their asylum process here; The Dancing On The Streets Show with Gustavo Romero, ParkTransmission "Aerobic" with TeleSport instructions for you on the couch; Selfcare With Webcam with Pussy; Let's talk about Tuntenhaushoffest; Cosmic Geplänkel by Namosh (live); Cruising the Cruising Areas of Berlin (during quarantine) with Bambola (Music: Cristian); G-talk with guests about GHB/GBL safer use – introducing the translation of the Drug Scouts G-article on lovelazers.org; Live performance Dragkings Venus Boys and others; Darkroom TV; guitar concert by Amer Chamaa; Tupamaras SoS Assembly Interview and Performance (in Berlin); PrEP & HIV treatment update with Ben/Zürich and others; Hubert Fichte im Gespräch; Rehearsal with Tupamaras in the Studio live; Talking 80ies/90ies History with homo activist Manuel Velandia; The Spread-Hub Bogotá, KONVENT: what is queer?/DJ Olivia Mendez (Techno-Kollektiv); PornArt sShow by Demonia BOG; The Bob Önen-Ross Show, Video Art Platform with Camilo Huntertexas and Juan Betancurth; documentary "FURIA" about transsexworkers selforganisation in Duitama/Colombia, In talk with Daniela from Red Communitaria Trans Bogotá, "Fighter Maricon" a portrait about the vogue dancer Oshnur from Pereira/COL, plus a LiveChat open all streaming long!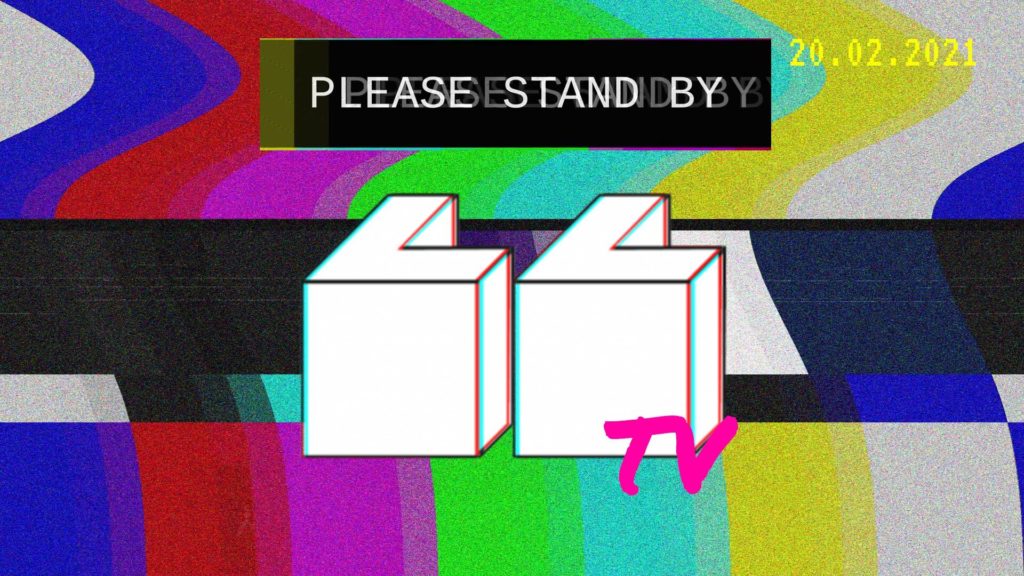 The TV station will be broadcasting live streamings from Berlin and Bogotá on two weekends. All the action is activist and no-budget. If you wanna support our transmission, please advertise it!
TO MAKE ALL TV DREAMS POSSIBLE WE NEED YOUR SUPPORT:
BERLIN
Feb, 20th 
from 14h CET all night long
with Timofey und Lava Volcánica (presentadoras)
FB-Event
BOGOTÁ
March, 6th, 2021
t.b.c.
Livestream
IN COOP WITH
Tupamaras, The Pink Post, Tuntenhaushoffest (queer summer festival Berlin), Morgenrotkeller , Spread-hub Bogotá (activist & artist residencies), SoS Assembly Berlin, Radio Plank and ://about blank Berlin (techno club), feminist radio SILLESTHA Berlin, Red Communitaria Trans, Studio Olimpo Santa Fe Bogotá, DJ Figkott/Berlin, Project Natural & Campesino (food/health/self sovereignty COL/GER), Konvent – Berlin based flint artivist collective, YOBAILOTRANS stream Bogotá
---
Oggi getto via questa maschera.